Convert WMA to MP3.
Powerful WMA to MP3 converter.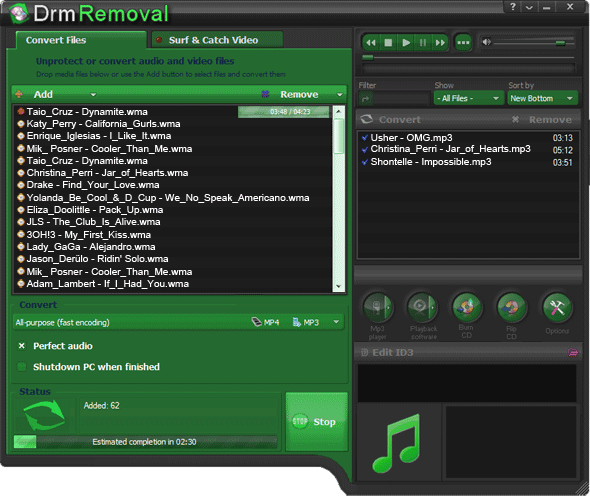 Convert WMA to MP3

WMA is Windows Audio files format developed by Microsoft, that can be played in Windows Media Player - default Microsoft media player. WMA files often has DRM protection and cannot be supported by other media players.
DRM is Digital Rights Management used by manufacturers and owners for limitations on the usage of their digital content and devices. When the file is DRM-proteced, it means that you can play it only in particular media player and very often you can use these files only on one PC, even if you bought these files and seem to have rights to use your media content in the way you want.
If you don't want to be restricted by DRM protection of WMA files, you should convert WMA to MP3. MP3 is the most commonly used audio files format that is supported by almost all media players and digital devices. Use Drm-Removal as wma to mp3 converter - the most powerful software to convert WMA to MP3.

Drm-Removal is unique WMA to MP3 converter that can remove DRM protection from wma files.

Drm-Removal is the wma files music converter conversion software that was designed to help users not to be restricted by digital rights protection or any restrictions in media content usage. If you cannot play files in your favorite media player, or cannot copy and transfer your files from your PC to other device such as iPhone, iPod, iPad, cell phone or other digital player - Drm-Removal will help you.
Drm-Removal supports a large variety of media files formats, audio and video, wma files. You can connect your mobile device to your PC and Drm-Removal will detect it and automatically set an Output format to convert your files to.

To convert WMA to MP3 Drm-Removal needs a few mouse clicks from you.

Before you start to convert WMA to MP3, check that you are able to play WMA files in Windows Media Player on your PC. If it's possible, Drm-Removal will convert wma to mp3 easily. If your DRM licenses are expired you should acquire the new ones to listen or convert wma to mp3.
When you make sure that your WMA files are playable in your Windows Media Player, you can convert WMA to MP3. Launch Drm-Removal and choose your files clicking "Add" - it let you convert WMA files one by one separately or a whole folder of WMA files.
Then Drm-Removal mp3 music converter automatically starts to convert WMA to MP3. If the wma format files are DRM protected, Drm-Removal will unprotect WMA files and convert DRM WMA to MP3.
After conversion you can play converted MP3 files on your PC clicking "Playback software" on the Drm-Removal toolbar, or transfer them to any digital device clicking "MP3 player". You can also burn converted files to the audio CD.
Now you know how to easily convert WMA to MP3 and listen to your music without restrictions. Use Drm-Removal and enjoy your life with music!
Drm-Removal is the easiest, the fastest and the most convenient way to convert WMA to MP3 - no special skills, no guides and tutorials are needed. Just a few clicks and you can listen to your music everywhere!
With Drm-Removal music converter (and wma to mp3 converter) you can extract audio from video and create soundtracks from your favorite movies convert to mp3. If you want to do this, check that you use Drm-Removal Video Unlimited edition. If you want just to convert wma files WMA to MP3, you can use one of the simpler Drm-Removal editions - Full or Unlimited.
Drm-Removal

Convert WMA to MP3

. WMA to MP3 converter.
RSS title:
Drm-Removal - WMA to MP3 Converter. Convert WMA to MP3.
RSS description:
Drm-Removal - convert WMA to MP3, WMA to MP3 Converter.