Free WMA to MP3 Converter.
How to convert free WMA to MP3.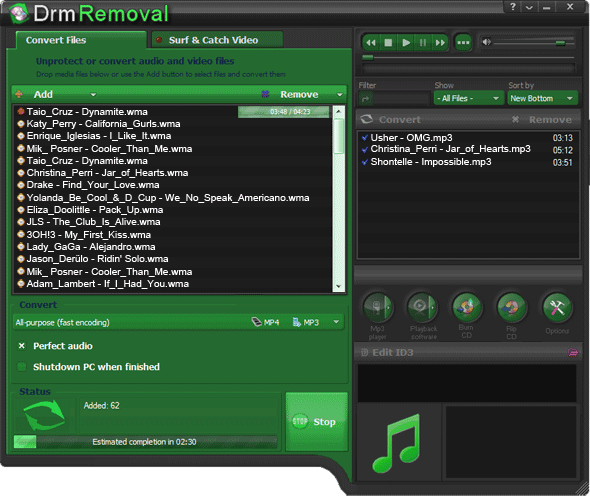 Drm-Removal is WMA to MP3 Converter. If you have gigabytes of WMA files on your PC and want to transfer them to the MP3 player or Apple device, or any other digital player, use Drm-Removal and convert WMA to MP3.
WMA is standard Microsoft audio files format for audio files. WMA files are playable in Windows Media Player and they are usually have DRM protection. Drm-Removal will help you to convert WMA to MP3 and unprotect them.
Drm-Removal> will

convert WMA to MP3

without quality loss at a high speed. You can set any output format, but MP3 is the commonly used audio format supported by the most of media players and mobile devices.

How to convert free WMA to MP3 with Drm-Removal.

WMA to MP3 Converter for FREE - download, install and try Drm-Removal.
Share youtr opinion as described here: WMA to MP3 Converter for FREE.
Write to support team, linking to your opinion and get your guaranteed FREE WMA to MP3 converter license
Run Drm-Removal. There are three Drm-Removal editions: Full, Unlimited and Video Unlimited. Drm-Removal Full can convert only two audio files simultaneously, with 6x conversion speed. Drm-Removal Unlimited converts unlimited amount of songs in a batch mode with the 50x conversion speed. It has additional Audio CD Ripper plug-in. Drm-Removal Video Unlimited supports audio and video files conversion, has CD Ripper, CD Burner and YouTube Ripper plug-ins. All editions offer free updates to the future versions.
In the "Convert" Drm-Removal section you can set desired Output format or Drm-Removal will set it automatically.
To run conversion, click "Add" and set your WMA file or entire folder of files and Drm-Removal will start to convert WMA to MP3. You can see the conversion status at the bottom of the Drm-Removal window.
Conversion process usually takes a few moments. Then you can play converted files in Drm-Removal using it as media player, and compare original and converted files quality. You can edit files ID3 tags in Drm-Removal, just click "Edit ID3 tags".
Your converted files will be stored in the default Output folder e. g. C:\Users\Name\Music\DrmRemoval, but you can set any Output folder manually in the Drm-Removal "Options" menu.
You can transfer converted files to your mobile device just after conversion. Make sure that your device is connected to your PC, and click "MP3 Player" -> "Copy to device" or "Configure device".
You can play your converted files with iTunes software, Windows Media Player or WinAmp on your PC clicking "Playback software".
You can burn converted files to Audio CD clicking "Burn CD"

As you can see, Drm-Removal is powerful but easy to use free wma mp3 conversion software to convert WMA to MP3. You can add your WMA library for conversion and go sleeping or working, and Drm-Removal will do the job! It will convert WMA to MP3 and transfer converted files where you want.
Drm-Removal music converter was designed for users who want not to be restricted by digital rights policy and use their purchased music as they want. Convert WMA to MP3 and enjoy your music everywhere! Drm-Removal will unprotect and convert WMA to MP3.

"Drm-Removal saved my life when I wasn't able to transfer all my WMA files to the iTunes library for my iPod. I use it for a couple of years. It's perfect when you need to convert WMA to MP3. The customer service and support are exellent!" - Levi Talmage, happy customer. You can always convert iTunes to MP3 also.


Convert WMA to MP3 FREE

with Drm-Removal.
RSS title:
Drm-Removal is free WMA to MP3 Converter. Convert WMA to MP3
RSS description:
Drm-Removal - convert WMA to MP3 free