Easily convert DRM protected music files and various audio files to unprotected MP3, CD, iPod and other MP3 player file formats at high speed and CD quality - legally. With just a few mouse clicks you can enjoy all your protected songs on iPod, any other MP3 player, CD player, mobile phone or PC - without any restrictions or DRM protection.
Audio CD Ripper
Rip and save as MP3 Audio CD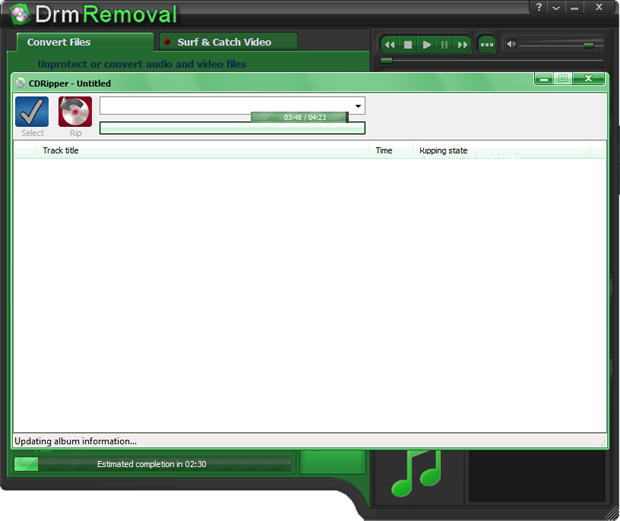 Ripping - is a process of extraction audio data from audio CD created in CDDA format. This cool Audio CD Ripper is capable to RIP Audio CD and encode them in MP3 or AAC or WAVe format.

Audio CD - Red Book is a standard for CDDA compact disk. Maximum playing time is 78 minutes. Minimum track duration is 4 seconds. Maximum number of tracks is 99. Often using CD or CDDA audio - peoples means lossless digital music.

MP3 CD - is a compact disk (CD) that contains MP3 files. The compact disk (CD) is created in data file mode (audio CD are written in CDDA mode). Many players supports MP3 format - it's advantage is time listening: 1 minutes in MP3 format is nearly 1Mb (from 800 Mb available on the CD in data mode), however in audio CDDA format can contains only ~13-18 tracks.


This great Audio CD Ripper is a pleasant bonus to the software. It is shipped with the Unlimited and Video Unlimited editions. Audio CD Ripping is as fast as it is simple with the complementary Audio CD Ripper. It uses program settings for encoding - so it's easy to setup. You can rip Audio CD to MP3 or iTunes (choosing AAC as encoder) and copy ripped audio CD directly to your iPod (using another pleasant bonus from the application).

This amazing Audio CD Ripper extracts track metadata (such as album / artist / track caption / etc) for you and there for they will be encoded into result files.

With this flawless Audio CD Ripper convert audio CD to MP3 or convert audio CD to iTunes or even copy and convert audio CD to iPod directly from the program. This Audio CD Ripper is a pleasunt bonus. Rip Audio CD to MP3 / AAC (for use in iPod, iTunes, iPhone). This fabulous Audio CD Ripper is a bonus pack for program editions. This Audio CD Ripper is simple to install, easy to use and fast to RIP and convert.