Easily convert DRM protected music files and various audio files to unprotected MP3, CD, iPod and other MP3 player file formats at high speed and CD quality - legally. With just a few mouse clicks you can enjoy all your protected songs on iPod, any other MP3 player, CD player, mobile phone or PC - without any restrictions or DRM protection.
Audiobook Converter
Convert audiobook, unprotect audiobooks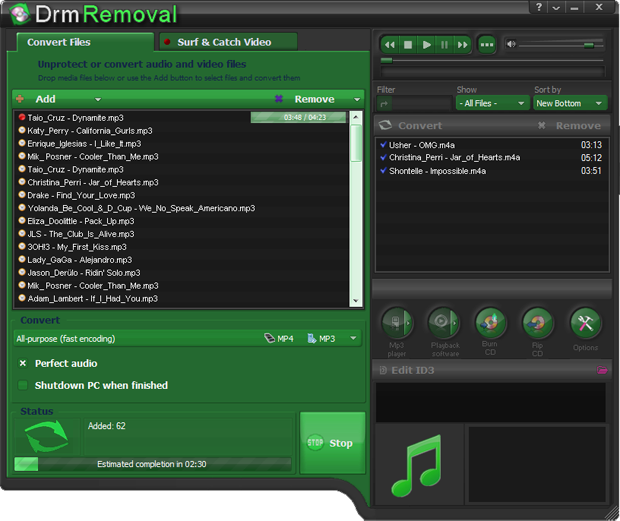 Audiobook - is an aloud book reading. Voice is recorded and converted to digital audio. Most popular usage of audiobooks is self education sphere.

How to convert audiobooks?
Many audiobooks have different formats. Many of audiobooks have restricted usage (DRM protection). A lot of audiobooks can't be always with you when you need them. Convert any of your audiobooks with DRM Removal. This software can easily convert protected audiobooks as well as not protected. Copy your iTunes audiobooks to MP3 or convert any of your audio (the app converts any audio, that is playable on your PC) and copy directly to iPod.

To convert and unprotect audiobooks: This protected meida converting program is simple to install, easy to use and fast to convert. After you install this cool program just drop protected or unprotected audiobook to the application's window and conversion (unprotecting) will start immediately. The conversion speed will be as fast as your PC can do. (In batch mode and using the Unlimited Edition, to unprotect and convert audiobooks.)

During conversion this wonderful software preserves original quality and metatags (author, name etc). Depending on your needs you may choose one of three encoding formats: WMA, MP3, AAC (iTunes, iPod native encoder). This can be done in settings dialog of audiobooks converting software.

If your audiobooks have suitable format, but has file protection - so you cannot listen to it anywhere outside your PC - just convert it with "audiobooks DRM software". Output files will not have protection any more. Unprotect audiobooks with the app. Unprotecting audiobooks is easy, fast and secure.

Use your audiobooks anywhere on any of your audio players with this great converting and uprotecting software.