Rhapsody music converter
Convert RAX to MP3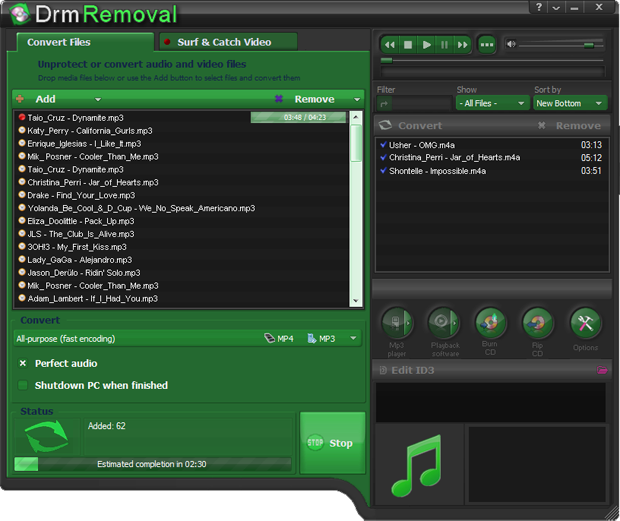 Rhapsody - is an online media service that gives you unlimited access to a catalog of millions of full length, CD-quality tracks.
Started at 2001 Dec, Rhapsody was the first music service to offer streaming on-demand access to nearly its entire library of digital music. Downloaded files come with restrictions on their use, enforced by Helix, Real Networks' version of digital rights management. Rhapsody music is usually in WMA, RAX formats and is protected by DRM copy protection. So you can play this file only with your PC!

The Apple iPod does not work with Rhapsody to Go. At this time Apple does not support track "rental" from Rhapsody or any other subscription music service. Purchased Rhapsody tracks also cannot be played on an Apple iPod. Wish to make your favorite Rhapsody music unprotected?
Wish to listen to Rhapsody music in the Apple iPod or enjoy it in your car?
Dream comes true!


You successfully can use this amazing software. You need to make some ease step and you'll be able to enjoy your Rhapsody music anywhere you wish. DRM Removal is:


Easy to Use
Supports All Major Formats
Very fast
The best way to remove your favorite Rhapsody protected music

Using this amazing application you can easily convert RAX to MP3 or WMA to MP3.

RAX format is audio compression and encoding scheme for digital music, developed and introduced by RealNetworks. RAX is the default audio format of Real player, and the format used for all Rhapsody music store.

MP3 format is widely used shortenize for MPEG-1 Audio Layer 3 - is a popular audio encoding format.

WMA format - Windows Media Audio (WMA) is brand name for compressed audio file formats developed by Microsoft. Currently, it is the second (after MP3) most widely supported format for compressed audio.

This brilliant software can do batch files conversion for you. Depending on the speed of your PC this awesome tool can convert from 2 to 6 tracks at the same time and with up to 40x faster than playback speed.

So enjoy your unprotected Rhapsody music!