Easily convert DRM protected music files and various audio files to unprotected MP3, CD, iPod and other MP3 player file formats at high speed and CD quality - legally. With just a few mouse clicks you can enjoy all your protected songs on iPod, any other MP3 player, CD player, mobile phone or PC - without any restrictions or DRM protection.
Convert MP3 to QCP
MP3 to QCP Converter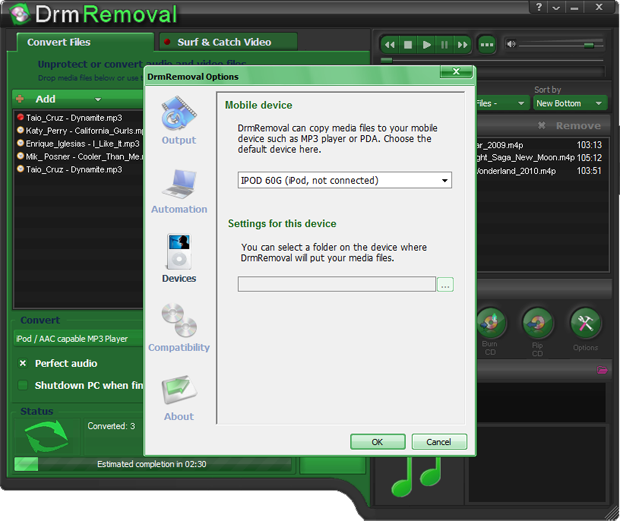 MP3 file format is also known as MPEG-1 Audio Layer 3. It was made by the Moving Picture Experts Group as part of its MPEG-1 standard. Due to high compression level, MP3 format is using for the large amount of audio data storage.
MP3 is supported by almost any devices, majority of audio books and music files are in MP3 format.
MP3 is developed by using of a lossy compression technology to greatly reduce the amount of data required to represent the audio recording and still have quality like a real reproduction of the original uncompressed audio for the most users.
QCP is the file format used by many cellular telephones: Palm Treo, LG VX8300 and VX5300, Motorola Razr V3m etc. It is based on RIFF format.
QCP files are commonly used for sending PureVoice audio attachments via e-mail and as ringtones in CDMA mobile phones.
If your phone doesn't support MP3 files, you need to convert MP3 to QCP with powerful converter.


If you want to convert your MP3 to QCP use DRM Removal.

The program is a powerful converter that helps you to convert almost any file formats - audio or video. The software is extremely easy to use and install.
You can convert the whole library of MP3 files with one click, at the 50x speed, without loss of quality. Files are converted in a batch mode, to 16 files at a time.
You cannot play MP3 files on some phones, but you can play QCP files on them.

If you have QCP player in your phone, convert MP3 to QCP and you can play it in the QCP player.

Convert your favorite song to QCP and use it as a ringtone on your phone.
The application will convert MP3 to QCP files and you can transfer them to your cell phone.
If your MP3 files are DRM protected, this amazing application will unprotect them - legally!
The software is the best solution if you are looking for a high quality with good price and excellent support.





Use the program and convert MP3 to QCP easily!

When you open the software and click "Add files", conversion will start automatically. Also you can add your files drag'n'dropping them to the program's window. In the app's settings dialog you can choose desired Output folder, where your files will be converted to.

You can set an Output format from the list in "Encoder for Audio files". Also you can choose any compression quality.

For those who are still doubting we provide FREE working trial version to check how the program works.