Easily convert DRM protected music files and various audio files to unprotected MP3, CD, iPod and other MP3 player file formats at high speed and CD quality - legally. With just a few mouse clicks you can enjoy all your protected songs on iPod, any other MP3 player, CD player, mobile phone or PC - without any restrictions or DRM protection.
Convert MP3 to iTunes
MP3 to iTunes converting software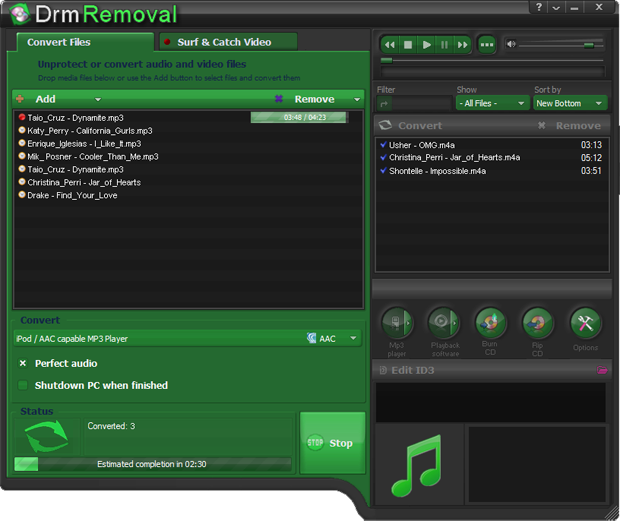 iTunes is a media player application, manufactured and showed by Apple on 2001 - January 10 at the Macworld Expo, for playing and maintaining digital music and video files. The program allows connecting to iPod and iPhone. Additionally, iTunes can connect to the iTunes Store (provided an internet connection is present) in order to download purchased digital music and audiobooks.
iTunes audio is usually DRM protected. So cannot simply convert iTunes audio. You need to remove DRM from audio before conversion. DRM Removal is a solution to convert iTunes audio, even if it's protected.
iPod is a portable media player selling by Apple from 2001 Oct. Devices in the iPod range are mostly digital audio players, with single button. It was designed to use with iTunes Store files.
The iPhone is a multimedia and Internet mobile phone from Apple. The iPhone function like camera phone and a multimedia player for iTunes files.
MP3 format is widely used shortenize for MPEG-1 Audio Layer 3 - is a popular audio encoding format. Industry standard for open music.

Convert MP3 to iTunes native format using the application. To create audio in iTunes format, you should go to the settings dialog and choose AAC as encoder. Now all your converted files will be in AAC format (native iTunes encoder) and DRM free. They can be copied to iPod or other devices without being converted.

Use the program to convert fast. With batch mode conversion and using the Unlimited Edition the conversion speed is limited only with your PC speed. You can get 40x and even more!
This wonderful software is simple to install, easy to use, fast to convert.

The application is not limited to MP3 to iTunes converter only. This cool tool will convert any audio files, that your Windows Media Player will play. Output files encoding can be set to AAC (native iTunes format), MP3 or WMA.
Convert MP3 to itunes to use them in your iTunes application.
The program preserves ID3 tags and others artist/album information while converting. If you convert protected audio - protection will be removed while converting.

You are just a few clicks from converting your MP3 to iTunes native format.