Easily convert DRM protected music files and various audio files to unprotected MP3, CD, iPod and other MP3 player file formats at high speed and CD quality - legally. With just a few mouse clicks you can enjoy all your protected songs on iPod, any other MP3 player, CD player, mobile phone or PC - without any restrictions or DRM protection.
Unprotect WMA
Protected WMA Converter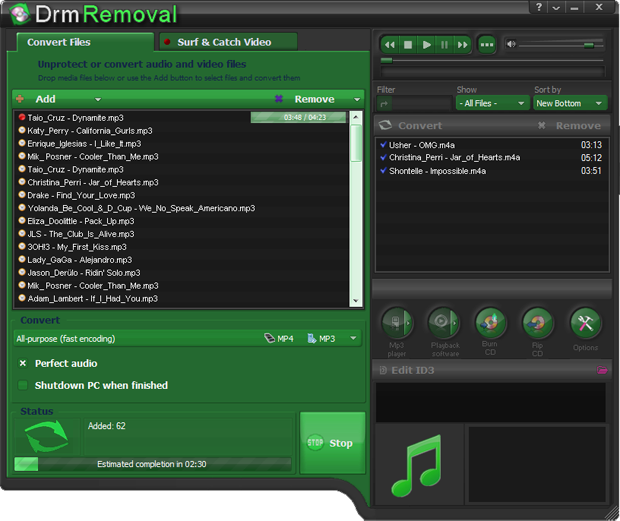 WMA format - Windows Media Audio (WMA) is compressed audio file formats developed by Microsoft under this brand name. Now, WMA is the second (after MP3) widely supported format for compressed audio.
The music store service such as Napster uses WMA as their preferred audio format.
Usually, audio in WMA format is protected.

Unprotecting your WMA files is legal. Exchange, selling or distribution of your unprotected files is illegal. That's why you are limited with your music music usage.

The app will convert only files, that you bought and you own. It's not a cracking tool.
Unprotecting music gives you freedom on how to listen it. Unprotect WMA from DRM restrictions.

You can listen on your laptop (if you buy it from home PC), you can listen to it in the office, in the car, with home music station. Your unprotected WMA music preserves original quality, ID3 tags. You are even free to choose encoder for music, that you convert. It can be well-known MP3 - industrial standard for high quality music, WMA (if you want to keep your existings file type) or even AAC encoder - iTunes native format for use in iPod or iPhone.

The software not only converts your audio, but removes file protection while converting.
All your converted audio will be protection free. So now - it's only your decision where to listen to it.


It is more than just a converter!