Easily convert DRM protected music files and various audio files to unprotected MP3, CD, iPod and other MP3 player file formats at high speed and CD quality - legally. With just a few mouse clicks you can enjoy all your protected songs on iPod, any other MP3 player, CD player, mobile phone or PC - without any restrictions or DRM protection.
onvert WMA files
WMA Converter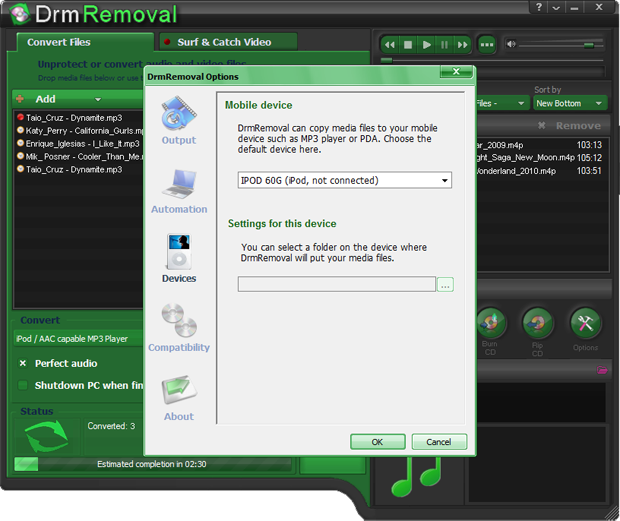 WMA (Windows Media Audio) is one of the most common audio data format developed by Microsoft. It was created as a main competitor for MP3 format. Microsoft claimed that WMA files has better quality than MP3, but the results of the independent tests shows that WMA is roughly equivalent to MP3.

Usually WMA files have file protection. So they cannot be played on the most of media players and need to be converted.

The app converts your WMA files to any audio format!

If you have an iPod or MP3 player, you must already know that your player does not support WMA files.
Convert them with DRM Removal to MP3 or AAC and copy to your favorite player!
It can also successfully unprotect your protected WMA files so you will be able to burn them to disk and share with friends.


The program is the powerful WMA Converter. It will convert your whole music library with a one mouse click and without losses of quality.
Use it to have no limits or restrictions! Enjoy your music any time, anywhere!

To convert WMA files, click the "Add file" button on the program toolbar and choose the files. Then open the settings dialog and choose desired output format and "Compression Quality" settings.




WMA Converter

Convert WMA to MP3 with the application is fast and easy. High Quality and High Definition (HD) Conversion of WMA to MP3. You can convert WMA to the MP3, AAC, WAV and iPod format in batch mode (when all the files are converted simultaneously). You can listen to the file being converted, already converted or queued for conversion and compare quality.

All converted files can be copied to iPod (in case it is connected to your PC) after you press the Copy to iPod button.