Easily convert DRM protected music files and various audio files to unprotected MP3, CD, iPod and other MP3 player file formats at high speed and CD quality - legally. With just a few mouse clicks you can enjoy all your protected songs on iPod, any other MP3 player, CD player, mobile phone or PC - without any restrictions or DRM protection.
Audio Converter for Windows 7
Windows 7 (x32,x64) Converter Audio & Video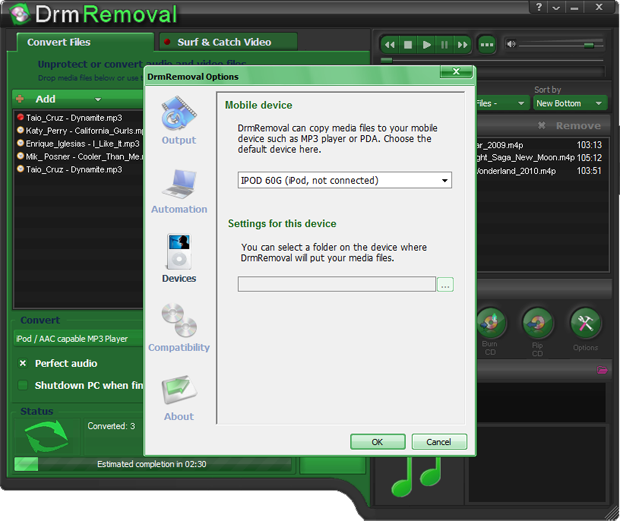 Many conversion applications were developed for Windows XP systems because media format conversion became in demand at the same time as Windows XP was released. Then Windows Vista became popular and it forced software developers to create the converting programs compatible with Windows Vista System.
Windows 7 was published in 2009. The operating system was developed as more user-friendly and focused on memory consuming than it's predecessors. Windows 7 has a lot of absolutely new features, some old Windows features were improved, and some of them are no longer present.
There are different Windows 7 editions available in many countries - the Home Premium, Professional, and Ultimate. Every Windows 7 edition includes all of the features and capabilities the edition below it. All editions support the 32-bit processors. Professional and Ultimate editions support the 64-bit processors.
The majority of third-party software appears to be not compatible with Windows 7 editions. Developers are working to update their products to be compatible with Windows 7, due to the increase of the Windows 7 popularity.


DRM Removal is up-to-date conversion software that works with Windows 7 x32 and x64 editions.

The app developers have added Windows 7 support when the Windows 7 beta release became available. If you choose one of the Windows 7 editions you will have no problem with switching the program to the new system - processor architecture doesn't matter. The software will run on the Windows 7 x32 as well as on the Windows 7 x64.
The program is easy-to-use media converter that supports almost any audio and video files conversion. If you can play files on your PC, the software will convert them. It supports protected files conversion as well as unprotected.
This brilliant Windows 7 x32, x64 converter allows to convert complete folder or separate songs structures and recreates these structures on output. You can select any compression level and output file format.
It is a tool not only for conversion. YouTube ripper, CD ripper and CD burner plug-ins are available as well.
The conversion is super fast, the playback speed is up to 20x. Converted files have HIFI and CD quality. ID3 tags for artist, album, title names etc are preserved.

This excellent Windows 7 x32, x64 converter is very easy to use and install. The free trial is available - you can download it right now and try!




How to convert?

It's really easy. Just open the app, click "Select files" and conversion will be started automatically. You can also use drag'n'drop to select files you want to convert.
To set desired Output format, compression level or Output folder, go to the "Settings" menu. You can choose from such audio output formats: WAV, MP3, M4A, WMA, and such video output formats: DivX, MPEG4, WMV, AAC-MPEG4.
Then you can transfer converted files to any device. If you need to transfer them to iPod, click "Copy to iPod" button on the program main toolbar. To transfer them to other device, copy the Ouput folder using Windows Explorer.

It is the best converter that you can launch on Windows 7 x32, x64.