Easily convert DRM protected music files and various audio files to unprotected MP3, CD, iPod and other MP3 player file formats at high speed and CD quality - legally. With just a few mouse clicks you can enjoy all your protected songs on iPod, any other MP3 player, CD player, mobile phone or PC - without any restrictions or DRM protection.
Convert AAC to WMA
AAC to WMA Converter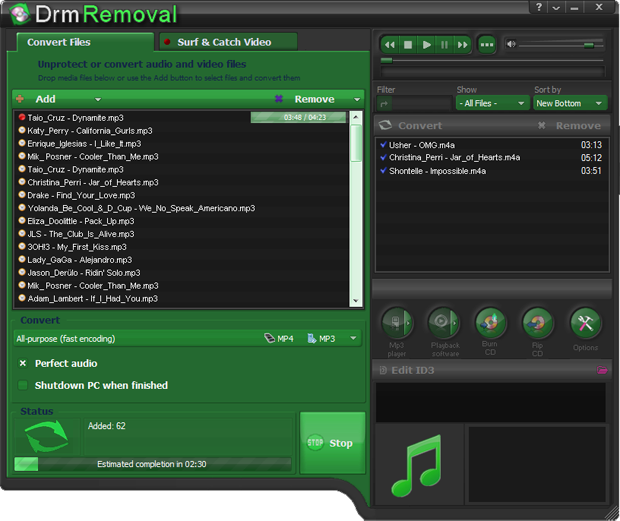 AAC - shortenize from Advanced Audio Coding (AAC) is a digital audio lossy compression method. AAC format was introduced by Fraunhofer IIS - MP3 creator. AAC is dedicated to be MP3 rival. In most cases, AAC audio has better quality with the same bitrate (under same file size). In opposite - MP3 is most widely used and is not protected.
AAC is used as format for Apple iPod, iPhone, iTunes and iTunes Store audio. These audio are protected. It means you can not convert it or listen in another format, on other device.

AAC is also Sony's Playstation 3 format.

Convert Protected AAC to WMA. This excellent program is capable to convert protected AAC to WMA or to MP3 as well. Your audio while converting will be unprotected.
To convert AAC to WMA go to the settings dialog and choose AAC as destination encoder. Once you save your changes all your converted files will be in WMA format.

Unprotect AAC to WMA. Using this tool you can easy convert and unprotect AAC to WMA (if you have choosen WMA as encoder in settings dialog).
The application is easy to use and fast AAC converter. For the Unlimited edition of the app batch conversion speed is limited only to your computer speed.