Easily convert DRM protected music files and various audio files to unprotected MP3, CD, iPod and other MP3 player file formats at high speed and CD quality - legally. With just a few mouse clicks you can enjoy all your protected songs on iPod, any other MP3 player, CD player, mobile phone or PC - without any restrictions or DRM protection.
Remove DRM. DRM music converter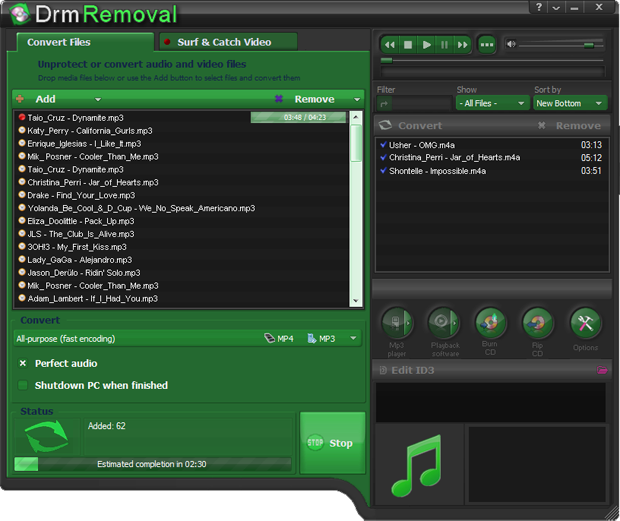 DRM - Digital rights management (or digital Restrictions managements) is a common word that describes access control technologies used by publishers and/or other copyright owners to limit usage of digital audio and video. Remove protection to get rid of annoying restriction.
Many online music stores use DRM to restrict usage of purchased or downloaded music.




How to convert protected music?

Due to DRM nature it's impossible to convert protected files. You can only play them.
However there are lot of ligitime reasons to convert protected music.
DRM Removal is a solution for converting protected music, if you own that music. To remove protection from that audio.




Why to remove protection or convert protected audio?

Because you are limited! Someone dictates you what you should do with your music and what shoudn't.
It's legitime to copy your iTunes audio (which you have already bought!) to your portable player.
Apple insists that player must be iPod. Remove protection.
Why?
What if you like another player? - You have to buy this song once more in a format suitable for your player. And once again - you can remove protection from that music too.
You for sure does not want it.
This wonderful software will not only remove protection from your song, but is capable to convert it to format of your player (MP3 or WMA).

The program can do batch files conversion for you. Depending on the speed of your PC the tool can convert from 2 to 6 tracks at the same time and with up to 40x faster than playback speed. There are many methods to remove protection, such as CD burning and ripping and so on. Removing protection is fast and easy with this superb app - designed specially to remove protection.

Remove protection from audio and video files with the software.

Wants to listen your Napster music on your iPod? It's easy and fast - just run the app and choose AAC as encoder format in settings.